SCOPE OF THE CONFERENCE
The 3rd International Symposium on "Physics, Engineering and Technologies for Bio-Medicine" is organized following the successful 1st  and  2nd International Symposium on "Physics, Engineering and Technologies for Bio-Medicine", held in Moscow at the occasion of the foundation of the new Institute PhysBio at MEPhI (Russia).
Under the auspices of the Russian Ministry of Science and Education, the Ministry of Health and the State Company Rosatom, the 3rd Symposium is again organized by the Institute of Engineering Physics for Biomedicine (PhysBio) of the National Research Nuclear University MEPhI (Moscow Engineering Physics Institute) in close collaboration with non-profit partnership «Kaluga pharmaceutical cluster».
Conference topics
The Symposium aims at bringing together leading scientists and experts in nuclear medicine, biophysics, bio-photonics and emerging fields to present their works and having invited lectures on the following topics:
Advanced materials and methods for MRI and PET
Bioimaging technologies and materials
Bio-photonics for diagnosis and therapy
Bioprinting
Brachy-, Proton and Ion therapy methods
Diagnosis methods, today and in the future
Immuno-therapy
Isotopes for medical purpose
Medical-biological aspects of radiation effects
Nanomaterials for biomedical applications
Plasma and laser technologies for biomedicine
Translational medicine
The Symposium provides a unique opportunity for fruitful scientific discussions and for establishing contacts with scientists all over the world.
Please note the following important information:
     Key note lecture: Marco Durante, director of the Biophysics Department at the GSI Helmholtz Center, Darmstadt, Germany.
     In the framework of the Symposium the 3rd International school for medical doctors and young scientists "Physics, Engineering and Technologies for Biomedicine" will be held 14 October 2018. Special lectures for medical doctors, students and young scientists will be organized from 10:00 to 17:00.
     After the Symposium, you have the opportunity to visit the laboratory of PhysBio MEPhI in Moscow and Obninsk. Excursions will be held on 18 October 2018.
      The format of the Symposium – invited lectures and poster session.
      The official language of the Symposium is English.
     The students participating in the Symposium will be able to lunch at the MEPhI for free. Please ask the organizing committee during registration. To enter the MEPhI you need a passport. Only for  Russian citizens!
Symposium venue: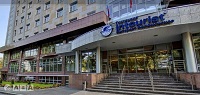 The Intourist Kolomenskoe, Kashyrskoye shosse, 39b, Moscow.
Dear participants!
In the framework of the poster session a competition of reports of young scientists will be held . The winners will receive diplomas and prizes.